Workshops at a Glance

Since 1997, the Blair School of Art has trained thousands of artists of all ages, from beginner to professional, many traveling from locations all over the world to learn our airbrushing techniques. Because we offer the highest quality airbrush instruction in the world, the world's best airbrush instructors come to us for their airbrush training. The four-day workshops are designed and optimized for students in a casual non-intimidating environment that has been created to ensure that all students receive the maximum educational benefit.

Our airbrush classes typically begin Thursday morning at 9 am and end Sunday around noon. The studio is generally open until midnight depending on the stamina of the students. Late hours are not compulsory and most students find themselves so engaged that they are reluctant to stop working.

The biggest challenge that our students face is absorbing the tremendous amount of airbrush techniques and information presented. For that reason, we provide supplemental printed materials to aid in the understanding and retention of the course content. Everything is presented in a clear and concise manner, and while concepts are easily grasped, the amount of information actually retained is only about one-third of the material presented. For that reason, we encourage students to take copious notes during lectures and demonstrations.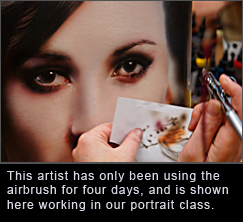 What Our All-Inclusive Workshops Offer

•The most comprehensive photorealism instruction available
•Classes taught by Dru Blair
•Dedicated one-on-one training with Dru Blair and staff
•Use of our equipment and supplies
•Custom-built airbrush workstations
•Quality ventilation
•Full-spectrum, color-corrected lighting
•State-of-the-art audio-visual systems
•A spacious studio with large work areas
•Newly restructured lectures with even more content
•On-site private lodging with private baths
•Home-cooked meals served family-style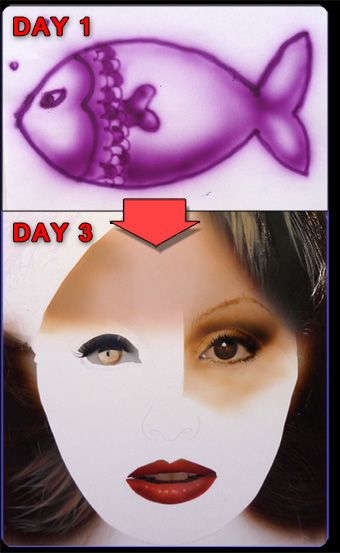 What You Take Away
The question most often asked about our workshops is "what will a workshop do for my art? The answer to that question depends on several factors, among them being your ability to retain the knowledge presented at the workshop, and your efforts to apply that knowledge.

The goal of the workshop is to advance your artistic abilities forward several years in just 4 days. While the material presented is straight forward and easy to understand, retaining that knowledge presents more of a challenge. For that reason, printed material is supplied, and the students are encouraged to take thorough notes in the notebooks we provide.
Everyone is different, so naturally, some students will seem to advance further than others, however everyone will experience a noticeable amount of artistic growth during our 4 day workshop. In fact, we guarantee that you will leave the workshop a better artist than when you arrived.
Beginners do really well in our workshops, as shown by the example on the left. This student had never airbrushed before taking our workshop, and the result shown is after only 3 days.



The airbrush is ideally suited for photorealism, or paintings that are a little more stylized. Your paintings can be as realistic as you want them to be. Below is a demonstraton from our portrait workshops.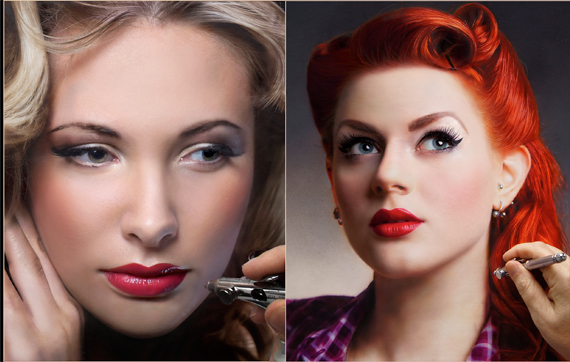 Pricing for Tuition

Four-day workshops with Dru Blair start at $999 per person. Check below for money saving all-inclusive specials.

Our on-site lodging - which features cozy private bedrooms, each with a full private bathroom and 3 meals per day- is available for $140 per day. The nearest hotels and restaurants are 25 miles away, so we strongly recommend our lodging and meal package.

Special Pricing on Package Deals

Our *All Inclusive Bundle* packages offer tremendous savings advantages over purchasing classes with additional options separately. "All Inclusive" Bundle packages include: Foundations day (if offered), main workshop(s), lodging, meals, (including days between classes if applicable), and transportation to and from Charlotte airport. If you are already comfortable with using the airbrush, you can opt out of the Foundatioons Day and save $250.

A typical 5-day workshop package from Tuesday Evening through Sunday afternoon consists of:

* Five breakfasts, five lunches, and five dinners (includes dinner Tuesday evening when you arrive)
* Five nights in a cozy private bedroom with a full private bathroom (plan to arrive the evening prior to the start of your first day of class)
* All fees including tuition, equipment, supplies, and model fees if applicable
* Excellent 14 hour per day state-of-the-art studio time
* Use of the 120-acre Blair campus

Our Foundations Day is already included with your "All Inclusive" Bundle, but can also be purchased separately for $225
We also offer a Charlotte airport shuttle service included with your "All Inclusive" Bundle. Charlotte airport shuttle service can be purchased separately at a price of $75 for standard times or from $70-$120 for private non-scheduled times (price based on availably of driver and actual travel times)


Location and Shuttle Service

Blair, SC is located about 40 miles NW of Columbia SC, and 70 miles SW of Charlotte NC. It is situated about midway, approximately 24 miles, between the towns of Newberry and Winnsboro, SC. Students flying in can arrive at Charlotte's Douglas airport. We will have drivers scheduled for two or more pickups at each airport per day to save you money by eliminating the need to rent a car. So that you may plan your flight accordingly, our workshops begin Thursday morning and end Sunday around noon. Please speak to one of the staff members by phone for more details regarding our shuttle service. Our phone number is 803-635-8060

Those students choosing to drive will be provided detailed instructions so that they may easily navigate to our location. Directions are also available through Google Maps.

Extended Studio Time to Enhance Your Experience

For the week following each workshop, the studio will be available for those students who would like extra studio time to continue the class projects, work on their own projects, or practice with a selection of prepared projects. For less than $140 per day, you can enjoy extended studio time, use of our equipment, classroom materials, lodging, and use of kitchen and laundry facilities. Prepared meals can be included for an additional $50 per day. The extended studio time does not include instruction, although, Dru and/or his staff will be available to help you overcome any difficulties that you may encounter, as well as provide ongoing guidance. This self-study class will help students become more self sufficient while reinforcing the concepts taught in the workshops. Contact us for details.

What to Bring

-All airbrushes, paint, board, reference photographs, and other art materials will be supplied in our new facility.
-You are welcome to bring your own airbrushes or other supplies that you might be partial to
- Anyone who is sensitive to overspray or any slight odors that may be produced it encouraged to bring a paint mask or respirator. This is typically not a problem with the water-based paints we use in most classes. We do have a built-in central ventilation system installed in the studio. Any For any classes using urethane paints a charcoal filtered respirator it strongly recommended.
- You may want to bring photographs of your art projects to get some pointers.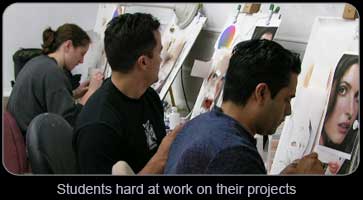 Class Schedule

View the class schedule and enroll by phone, call 803-635-8060 .










Finally, Our Guarantee



We guarantee that our workshops will improve your artistic ability and understanding of the visual world, or your money back. Take some time and browse our site. If you have any questions, feel free to call us toll free 1-800-828-3634